Various ways to shop at GASSAN Schiphol.
From Wednesday the 3rd of March it is possible to make a 'Shop by Appointment' both before and after security in one of our GASSAN Schiphol stores. For the shops after security, you must be in possession of a boarding pass. The condition is that there must be at least 4 hours between making the appointment and the actual store visit. All this according to the guidelines of the Central Government.
In addition to this 'Shop by Appointment' and 'Order &Collect' concept, where there must be at least 4 hours between the order and the purchase, you can also choose the Option Order & Delivery. There is only a minimum of half an hour between your order and the delivery. This only applies to selected GASSAN stores on airside, so after security. The condition is that your purchase is delivered to you. It is therefore not possible to take your purchase directly with you. This will be delivered to your Gate of departure shortly before you fly.
For more information about all these shopping options at GASSAN Schiphol, please call 020-4059920 or send an email to info@gassanschiphol.nl. We are happy to help you.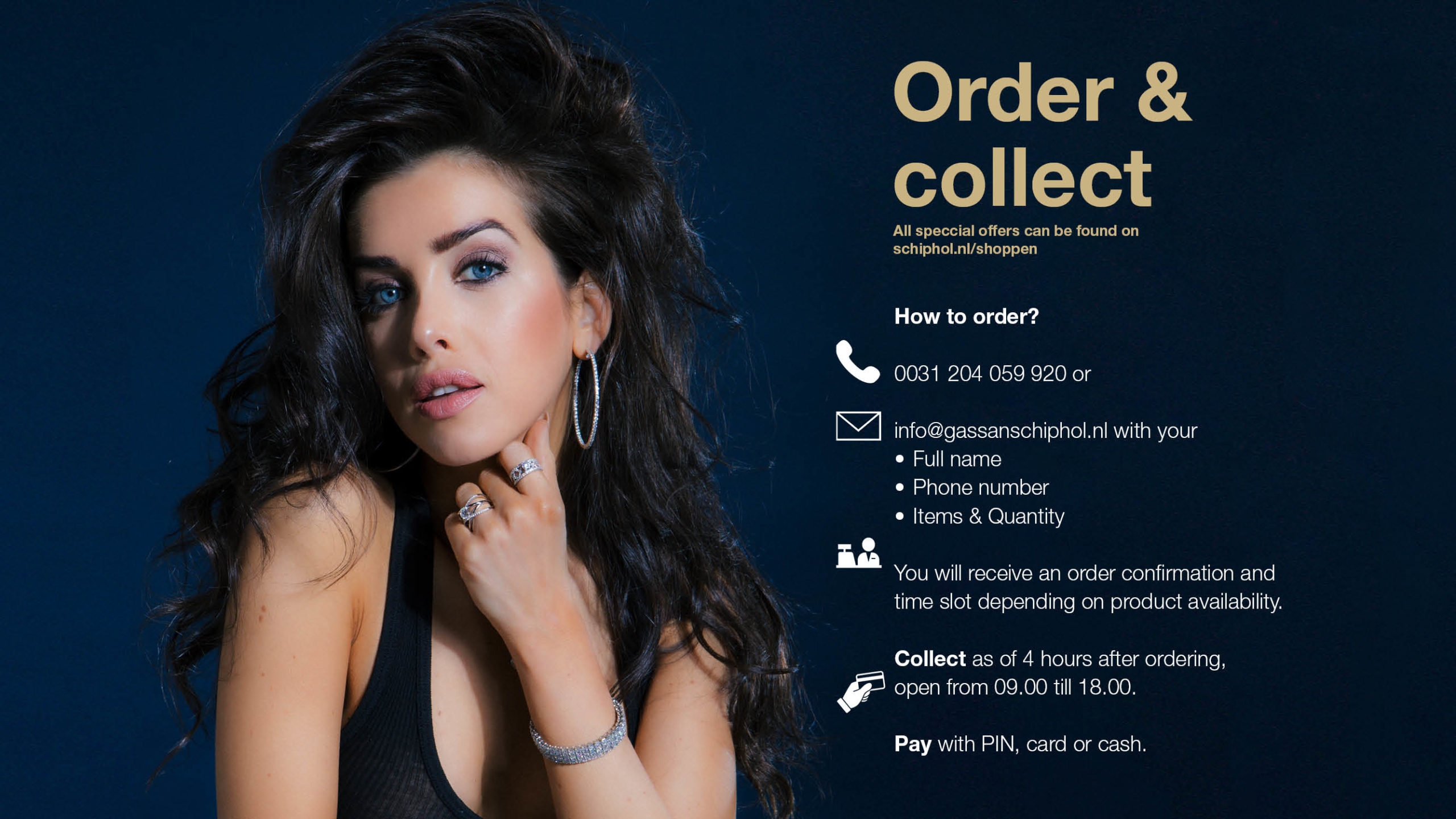 GASSAN Schiphol Order & Collect
Due to the COVID-19 lockdown ( from 15 December 2020 to 3 March 2021) we inform you that our GASSAN shops at Amsterdam Airport Schiphol are temporarily closed. However the Dutch government has recently approved the "Order and Collect" service during this lockdown period which allows you to place an order and pick up the product(s) at an appointed time and location. Please see below for details of this " Order and Collection" service:
Place an order and reserve product(s) via email (info@gassanschiphol.nl) or call us at +31 204059920 ( 09:00 – 18:00 hrs). Visit our site further for our Special Offers and info on our Brands and collection.
The regulation from the Dutch Health organisation ( RIVM) stipulates that a minimum of 4 hours has to elapse between the time of order and the time of collection.
Payment upon collection is by PIN / bank card, credit card or cash. A 20% down payment is required for product(s) which need(s) to be ordered. This amount can be paid via a bank transfer.
You will be informed by email or phone of the pick-up location and the time-slot for collection depending on your flight details.
For yours and our safety and health, all safety precautions must be observed. Thank you for your attention and co-operation.
We look forward to be of service to you. We are in this together. Stay strong.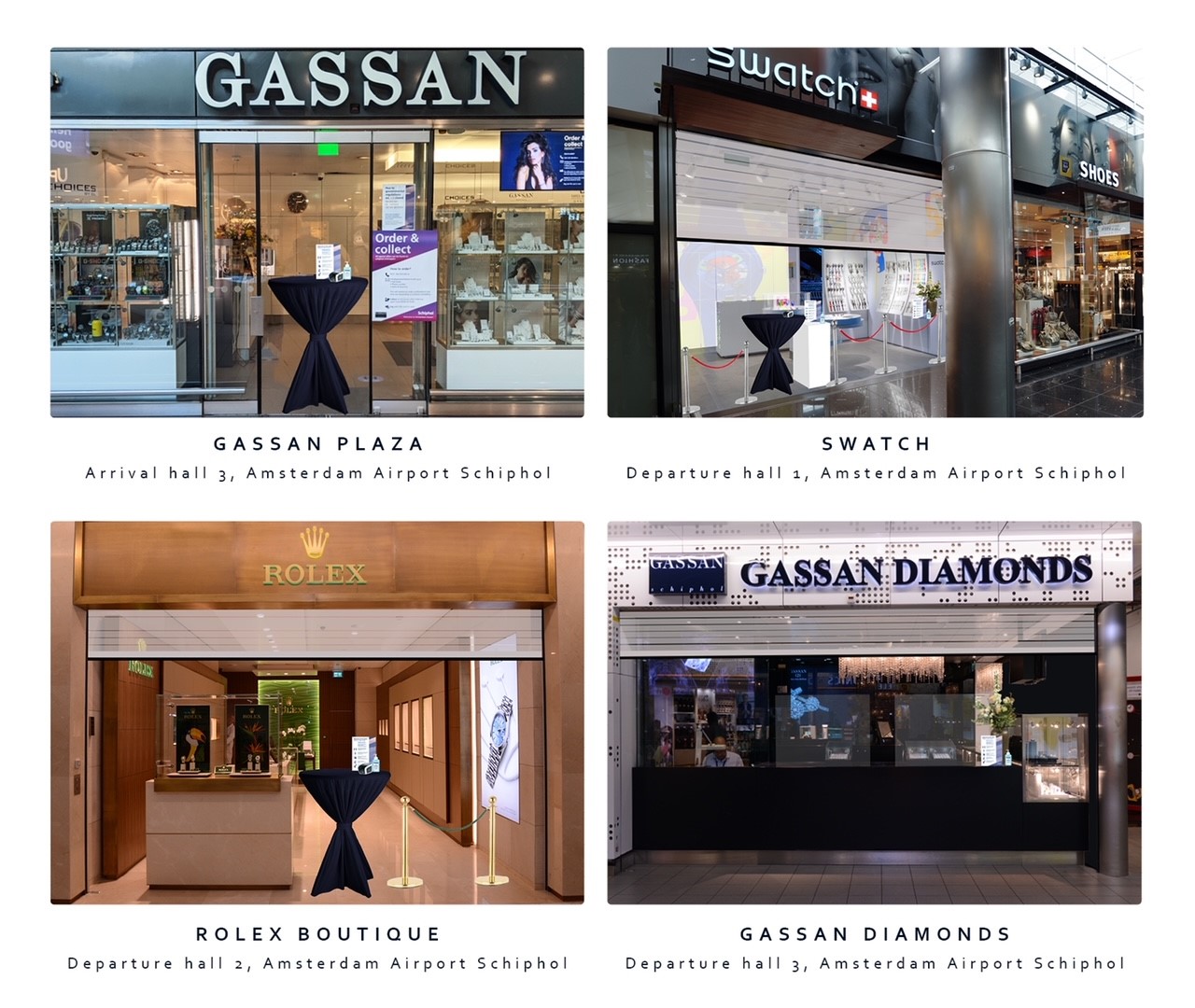 —-
You can shop at GASSAN Schiphol before and after security. The latest collections of numerous watch and jewelry brands are presented as well as beautiful diamonds. Furthermore we offer several services such as  battery change for most watches as well as repairing,cleaning en sizing of watches and jewelry. We can set loose diamonds in various 18K gold settings. Everything while you wait and 365 days a year. Did you know that we can offer you our GASSAN personal shopping service in collaboration with the Schiphol VIP centre?
Before security  GASSAN is located at Shopping Centre Schiphol Plaza in arrival hall 3 and is open  from 7 AM to 10 PM (please note that due to Covid-19 our shops are closed until March 3rd 2021. However you can use our Order&Collect service).
After security  13 GASSAN stores are situated in departure halls 1, 2 and 3, as well as on the B-gate. In departure hall 2 are the Rolex, Omega, Bvlgari, Cartier and Montblanc Boutiques. Also our Watches & Jewelry shop with our GASSAN Diamonds corner. 
Further Swatch, GASSAN Watches & Jewelry, GASSAN Diamonds and GASSAN Trends shops can be found in departure hall 1 and 3.  A selection of our watches- and jewelry collection is also available in the (Vizzit) shop at gates H.
The GASSAN shops in the transit area are open the whole year round from 1.5 hour before the departure of the first flight until 30 minutes before the departure of the last flight of the day (please note that due to Covid-19 our shops are closed until March 3rd 2021. However you can use our Order&Collect service).
Check the Schiphol map for direction to the GASSAN shops.