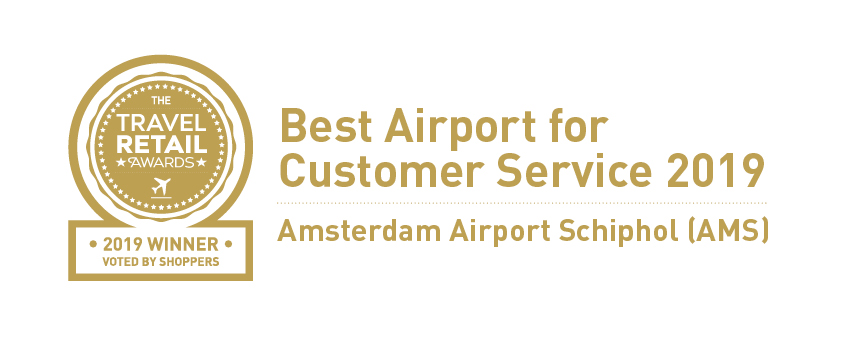 The Business Unit Consumers at Amsterdam Airport Schiphol hands out various Awards every year. Shops at Schiphol Plaza shopping center and the See Buy  Fly shopping center in the transit area ar monitored continually via mystery shoppers and customers monitors. The aim is to promote and maintain a high level of customer friendliness and service quality. Only the retailer who continuously scores the highest in both monitors will be honoured the People Award.
GASSAN Schiphol is the proud winner of numerous prestigious awards. We are committed and dedicated to maintain our high level of customers service and look forward to the challenge of adding more awards  to the list in the future.
2019: TRAVEL RETAIL AWARD
International travelers have chosen Schiphol as the airport where you can experience worry-free and enjoyable shopping. The airport has won the Travel Retail Award in the category 'Best Airport for Customer Service 2019'.
2018: SKYTRAX WORLD AIRPORT AWARD
Schiphol was awarded the Skytrax World Airport Award March 2018. Indirectly an Award for all business partners of Amsterdam Airport Schiphol because the jury comprised nearly 14 million passengers, who completed an online survey to share their experiences of every aspect of their journey, from check-in to gate, at more than 500 airports
2012: GROWTH AWARD , 1st price
2011: GUESTFRIENDLINESS AWARD, 1st price
2009: GUESTFRIENDLINESS AWARD, 2nd price
2008: PEOPLE AWARD, 1st price
2007: PEOPLE AWARD, 2nd price
2006: INNOVATION AWARD
This prestigious award was presented to GASSAN for the opening of the first Rolex boutique in an airport outside of Switzerland.  Rolex has long been at the  top of the watch industry and is the best selling and best known Swiss watch brand. From the jury report: "GASSAN Schiphol has, with the arrival of the Rolex Boutique, put Schiphol Airport on the map within the exclusive jeweler's branch."
2006: OEUVRE AWARD, for  GASSAN Schiphol president-CEO Benno Leeser.